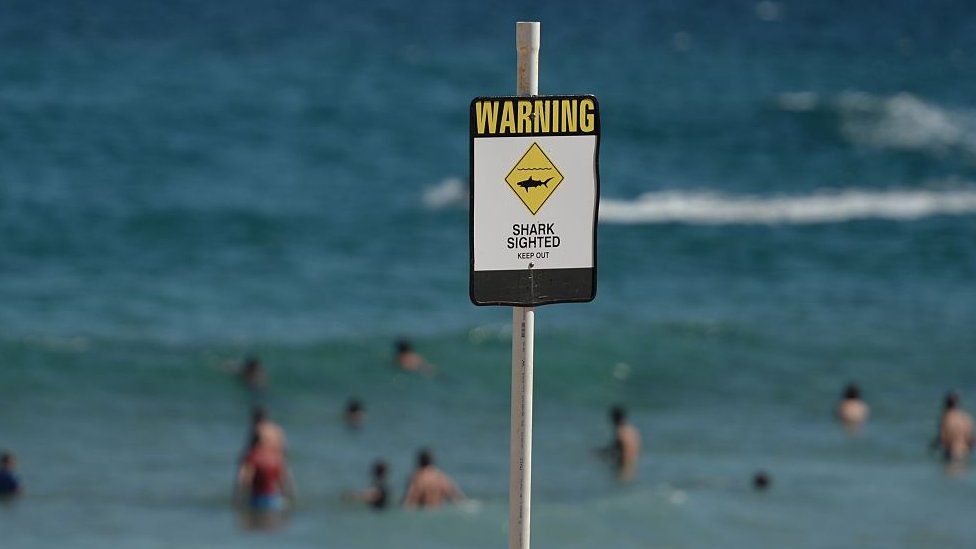 A swimmer has been killed after sustaining catastrophic injuries in the first fatal shark attack in Sydney since 1963, Australian officials say.
Emergency services were called to Little Bay beach near Malabar on Wednesday afternoon where human remains were found in the water, police say.
Authorities in the New South Wales state have not named the victim, and an investigation is under way.
Little Bay and several nearby beaches are now closed.
At the time of the attack at 16:30 local time (05:30 GMT) on Wednesday, there were dozens of people swimming, paddle boarding and fishing on the nearby rocks, according to Sky News Australia.
"Some guy was swimming and a shark came and attacked him," one witness told Nine news.
"We heard a yell and turned around – it looked like a car had landed in the water," he said.
Another onlooker who was fishing on the rocks at the time told ABC news that the swimmer "was yelling at first, and then when he went down there were so many splashes.
"He just went down for a swim, enjoying the day, but that shark took his life," he said.
New South Wales ambulance service said the patient had "suffered catastrophic injuries and there was nothing paramedics could do".
The police said the beach would remained closed while officers searched the area.
The police also urged people to be careful on beaches and follow the safety guidance from Surf Life Saving NSW.
The guidance says that beachgoers should:
swim between the red and yellow flags at locations that are patrolled
avoid swimming at dawn, dusk and night
avoid swimming at river mouths or in murky, discoloured waters
avoid swimming in or around schools of baitfish
The last fatal shark attack on a Sydney beach was in 1963 at Sugarloaf Bay.
Last year there were three fatal shark attacks in Australia, including two in New South Wales, according to the Taronga Conservation Society.